Qiuzhuang Project——Ulay/Abramovic's performance art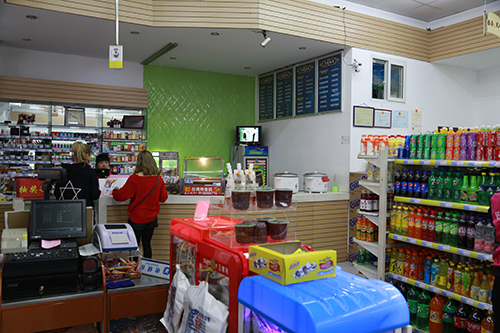 仇庄项目
——乌雷/阿布拉莫维奇的行为艺术

李牧在荷兰凡·阿贝美术馆几个星期的驻留之后,发展出一个特别的艺术项目。在他的家乡仇庄——中国江苏省丰县的一个村庄,他陆续复制了一系列西方著名的经典现代艺术作品,像索尔·勒维特、丹·弗莱文、理查德·朗、安迪·沃霍尔、丹尼尔·布伦、卡尔·安德鲁、约翰·考美林以及乌雷/阿布拉莫维奇的作品。这些来自凡·阿贝美术馆的馆藏艺术复制品被展示在仇庄的道路边以及村民的家里。在一年多的时间里,李牧通过和家人及村民的合作,试图创造一种新的交流,借由艺术以了解自身,也为村庄打开一扇窗户。

在仇庄,李牧将乌雷/阿布拉莫维奇的6件行为艺术表演录像展示在村民王高启的商店里;这次展览中,李牧将这些行为艺术表演录像展示在南京艺术学院教育超市里。这些作品包括:1,无量之物,15分钟,1977;2,啊啊啊—啊啊啊,9分钟23秒,1977;3,白天与黑夜,6分钟37秒,1977;4,静止的能量,4分钟5秒,1980;5,情人—长城 I,26分钟49秒,1988;6,情人—长城 II,30分钟59秒,1988。


Qiuzhuang Project
——Ulay/Abramovic's performance art

After a residency of a few weeks in the Van Abbemuseum in Eindhoven (NL), Chinese
artist Li Mu developed a unique art project. In his home town, Qiuzhuang – a small
village 800 kilometres south of Beijing – he copied classical modernist artworks by
well-known Western artists like Sol LeWitt, Dan Flavin, Richard Long, Andy Warhol,
Daniel Buren, Carl Andre, John Kormeling, as well as Ulay and Marina Abramovic from
the collection of the Van Abbemuseum, displaying them in the houses and streets of
Qiuzhuang. For more than a year, Li Mu collaborated with the villagers, trying to
create the experience of what art brought to him and what it could bring to them.

Li Mu displayed Ulay/Abramovic's performance video works in Wang Gaoqi's grocery
in Qiuzhuang. Now these performance videos displaying in the Jiaoyu Grocery in
Nanjing University of the Arts. These videos include: 1, Imponderabilia,15min,1977; 2,
AAA-AAA,9min23,1977; 3, Light/Dark,6min37,1977; 4, Rest Energy,4min05,1980; 5,
The Lovers I-The Great Wall Walk,26min49,1988; 6, The Lovers II-Boat Emptying
Stream,30min59,1988.


仇庄项目支持机构:凡·阿贝美术馆(埃因霍温,荷兰),Arthub Asia(上海,中国)
The Qiuzhuang Project is supported by: Van Abbemuseum(Eindhoven) , Arthub
Asia(Shanghai).