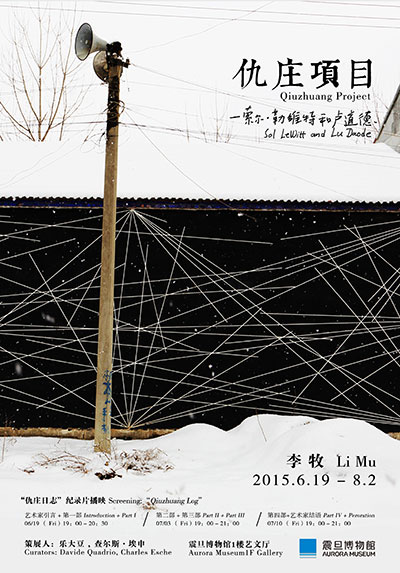 艺 术 家:李牧
策 展 人:乐大豆(Davide Quadrio)、查尔斯˙埃申(Charles Esche)
展览时间:2015年 06月19日至08月02日
开幕活动:2015年06月19日19:00-20:30
展览场馆:震旦博物馆1楼艺文厅
主办单位:震旦博物馆
地址:上海浦东新区陆家嘴富城路99号
开放时间:周二至周日 10:00-17:00 / 周五延长至21:00,周一休馆
电话:021-58408899-607
网站:http://www.auroramuseum.cn

Title: Qiuzhuang Project:Sol LeWitt and Lu Daode
Artists: Li Mu
Curators: Davide Quadrio(乐大豆)、Charles Esche(查尔斯˙埃申)
Exhibition Period: June 19 - August 2, 2015
Opening Event: 19:00-20:30, June 19, 2015 (Fri.)
Venue: 1F Gallery, Aurora Museum
Organizer: Aurora Museum
Add: No. 99, Fu Cheng Road, Pudong District, Shanghai
Opening hours: 10:00-17:00 from Tuesday to Sunday. Fridays open until 21:00(Closed on Mondays)
Tel:021-58408899-607
Website:http://www.auroramuseum.cn



展览介绍:
"仇庄项目"(2012.01-2013.07),是李牧在家乡的一个长期介入项目,主要的行动是在仇庄复制并展出荷兰Van Abbe美术馆的重要馆藏品,这8组欧美当代知名艺术家的10件作品是由李牧亲自挑选,选择作品的原则有二:一是作品与村庄之间能否找到某种联系,二是作品与村庄能否建立一种新的关系。过程中李牧并未向当地村民灌输西方文化,只是创造让村民直面艺术作品的环境,透过艺术、知识和经验与自己的村子建立一种关系,探讨彼此的相处方式和影响的可能性。

本次展览节选的单元是卢道德和索尔·勒维特的"相遇",李牧邀请村里的老画师卢道德和他一起复制了两幅索尔·勒维特(Sol LeWitt)的墙画(Wall Drawing No.256,Wall Drawing No.480),包含制作过程的纪录及李牧对卢道德的访谈等视频,以及"仇庄项目"实践期间的工作日记与手稿。

Exhibition Introduction:
"Qiuzhuang Project" (2012.01-2013.07), is a long-term intervention piece that Li Mu
produced in his hometown. The main focus was about reproducing and exhibiting
important works from the Van Abbemuseum in the Netherlands. 10 artworks by 8
artists were personally selected by Li Mu with the following criteria: first, the work
could have a connection to the village, and second, the work could build a new
connection with the village. In the process of creating this work, he did not mean to
instill Western culture on the local villagers, but rather create a new environment in
which they could experience art. Li Mu has managed to use his art, knowledge, and
experience to establish relationships within his village to foster development and
influence.

The topic chosen for the current exhibition is an "encounter" between Lu Daode and
Sol LeWitt. Li Mu invited the village's old painter, Lu Daode, to reproduce two wall
paintings by Sol LeWitt (Wall Drawing No. 256, Wall Drawing No. 480). Audience can
see the records of the production process, and interview videos of Lu Daode's, as well
as daily reports of the program during "Qiuzhuang Project."





艺术家简介
李牧,1974年生于江苏丰县,业于清华大学美术学院,现生活工作于苏州及上海,2011年入围今日艺术奖,2012年获得亚洲文化协会(ACC)奖助金在纽约ISCP(国际艺术家与策展人工作室)做艺术驻留。创作主要以录像装置和行为艺术为主。如2008到2009年进行的"蓝色图书"计划,是针对失足未成年人的艺术影响计划。2010年上海世博会期间与荷兰埃因霍温Van Abbe美术馆合作"双倍无限"展览,进而着手进行本次展出的西方艺术下乡的艺术项目。

About the Artist
Li Mu, born 1974 in Jiangsu Province, studied at Tsinghua University's Academy of
Art, lives and works out of Suzhou and Shanghai, was a finalist for the CREDIT
SUISSE Today Art Award in 2011, and was given residency at New York's ISCP
(International Studio & Curatorial Program) by the Asian Cultural Council (ACC) in
2012. His art practice focus on video installation and performance art. From 2008 to
2009 he worked on "The Blue Books," a project that aimed to spread artistic influence
among teenagers. In 2010, collaboration between the Shanghai World Expo and the
Van Abbemuseum in Eindhoven produced the exhibition "Double Infinity" that gave
rise to "Qiuzhuang Project".

相关活动Related Events
"仇庄日志"纪录片播映 Screening:"Qiuzhuang Log"
1.艺术家引言+第一部Introduction + Part I 6/19(五)19:00-20:30
2.第二部+第三部Part II + Part III 7/3 (五)19:00-21:00
3.第四部+艺术家结语Part IV + Peroration 7/10(五)19:00-21:00

讲座:艺术为人民服务:仇庄项目与当代乡村中国艺术项目的历史
讲者:艾美林Madeline Eschenburg(匹兹堡大学博士)
时间:2015年07月18日(六)14:00-16:30
地点:震旦博物馆1楼多功能厅
简介:二十世纪中以来,中国艺术家与中国农村之间的关系有着很多改变。通过审视艺术创作中农民被当做主题或合作者,以及当中描述、处理或者融合的方式,可以更完整的了解这些改变。90年代以来城市与农村之间的经济和文化差距越来越悬殊。为了回应这个社会现象,许多艺术作品或主题与中国农村有关,或为了中国农村而创作,或与中国农人合作创作,成为一股有脉络可循的延续。李牧便是其一,在家乡仇庄,李牧跟村民一起复制来自荷兰Van Abbe美术馆收藏的现代西方名品。通过将李牧的仇庄项目放在20世纪70年代末至今农村艺术作品的历史情境中,艾美林将探索李牧的艺术行动在中国当代艺术史中的特殊性。


Lecture: Art for the People: Qiuzhuang Project and the History of Rural-based Projects
in Contemporary Chinese Art
Speaker: Madeline Eschenburg(Ph.D Student at the University of Pittsburgh)
Time: 14:00 - 16:30, July 18, 2015 (Sat.)
Venue: Multi-function Hall (1F, Aurora Museum)
Introduction:Since the middle of the 20th century the relationship between the artist
and rural China has undergone many changes. This can be seen by examining how
the rural person is depicted, approached, or integrated as subject matter or fellow
collaborator. Since the 1990s, the cultural and economic divide between the urban
and rural has only become more pronounced. In response to this, and in some ways
continuing the revolutionary tradition, some contemporary artists have continued to
make art about, for, or with rural China. As one of these artists, Li Mu has taken a
unique approach to the countryside, engaging with inhabitants of his home town to
recreate famous works of modern art from the Van Abbemuseum in the Netherlands.
By historically situating Li Mu's Qiuzhuang Project within the context of contemporary
art projects in the countryside since the late 1970s, this lecture will explore its greater
significance in the history of contemporary Chinese art.