Travel video 4min26 2008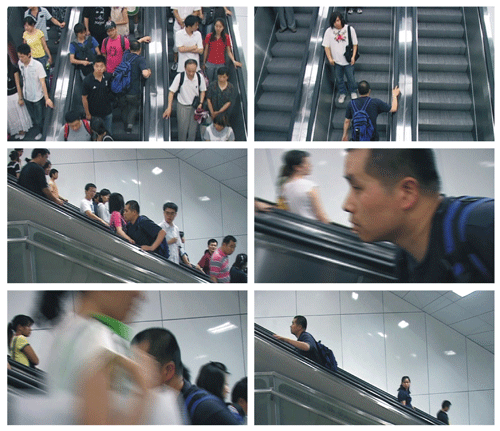 当我顺行在人群中的时候,我似乎被某种力量推着前行,久而久之,身边经过的一切都变得理所当然。当我转过身,逆着人群行走时,行走变得艰难起来,但是我却能看到被忽略的"风景"。根据下行的扶手电梯的物理原理,我以不停地向上行走实现我的一次逆向"旅行",不断从我身边经过的人群成为障碍的同时也构成我的"风景"。穿越层层的"风景",我到底能走到哪里?结果似乎显得荒诞:我始终处在原来的地方。

When I was walking with the crowd, it seemed that certain strength was pushing me
forward, making me take everything passing by for granted after some time. When I
turned around to walk reversely to the crowd, it became difficult, but I could see
ignorant "beauties". Standing on the down-going elevator, I tried to walk upward
constantly to realize a reverse "travel". The passers-by became both my obstacles
and my "scenery". Shuttling through these "scenery" one after another, where could I
arrive? The result seemed to be absurd: I was standing at the same place.